CHAIN LINK FENCING
Chain link fencing offered are high strength based Chain link fencing solutions that can be made available in two options. One among these comprises heavier gauge smaller mesh size based fences that are used in areas that require enhanced protection support against intrusion that is intentional.
The other option comprises lighter gauge and bigger mesh size based fences that find application in locations like residential and business areas. We make these available in flexible fence.
The Star Chain link Fence manufactured by us is used to make boundaries on various properties in order to avoid trespassing. These Fences are produced using standard ad superior raw material. These Star Chain link Fences are very suitable for short term enclosures. These fences are highly durable and work with most effectiveness in various rigid circumstances also. We are also assisted by a team of quality auditors to check these products on the basis of various frameworks.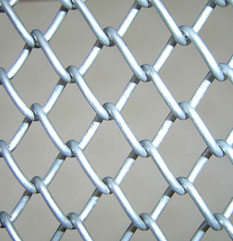 It is a high quality fencing mesh and can be made out of low carbon steel (MS) wire,galvanized (GI) wire, stainless steel (SS) wire or plastic coated (PVC) wire. The weaving is simple, artistic and quite practical. It is commonly used in the field of architecture with applications in residences,gardens, playgrounds and can also be used for security purposes.
With our in-depth industry knowledge and expertise, we provide excellent range of chain link fencing in various sizes, heights, length and specifications. Our collection is noticeable among our clients for their flawless performance, portability and sturdy construction. These are extensively used in hotels, offices and schools. We sell them at the competitive prices in the global markets.