SELF DRILLING SCREW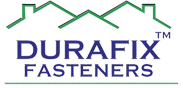 Shreenathji Enterprise is an authorized dealer of Durafix Fastners.
​
Do You Know ?
ACCORDING TO ALL THE RESEARCHES AND SURVEYS CONDUCTED IN THE ROOFING INDUSTRY IT IS CONCLUDED THAT THE MAIN REASON OF EARLY CORROSION OF THE ROOFING SHEETS IE. GALVANISED CORRUGATED, PRE- PAINTED GALVANISED SHEETS PPGI IS DUE TO USAGE OF LOW QUALITY AND CHEAP FASTENERS AND 'J' HOOKS, THESE MATERIALS IN LONG RUN DAMAGES THE SHEETS CAUSING CORROSION WHICH LEADS TO PROBLEMS LIKE LEAKAGE OF WATER. THUS THE LIFE OF THE ROOFING SHEETS IS REDUCED TO HALF THE YEARS THAN IT IS EXPECTED TO FUNCTION. WE BRING TO YOU DURAFIX TM FASTENERS WHICH IS THE PERFECT SOLUTION TO YOUR PROBLEM. THESE SELF DRILLING SCREWS ARE MANUFACTURED USING BEST QUALITY MATERIAL AND COATINGS. THEY ARE TESTED AS PER GLOBALLY ACCEPTED AMERICAN AND AUSTRALIAN STANDARDS, WHICH GIVES THE SCREWS THE STATUS OF "ANTI-CORROSIVE". WE ARE THE LEADING SUPPLIERS OF ROOFING AND CLADDING SCREWS AND OUR BRAND " DURAFIX TM FASTENERS" IS ONE OF MOST REPUTED AND TRUSTED BRAND WHEN IT COMES ROOFING INDUSTRY.
SIZE OF PRODUCTS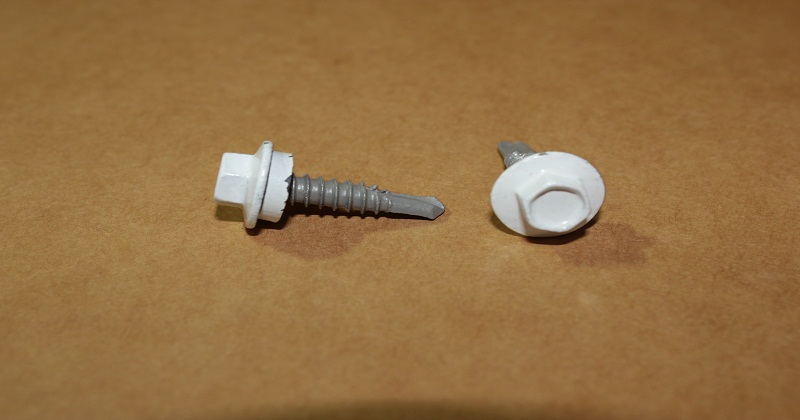 #12-14 X 25MM
Full Threaded

Drill point 3

Drills upto 5mm thickness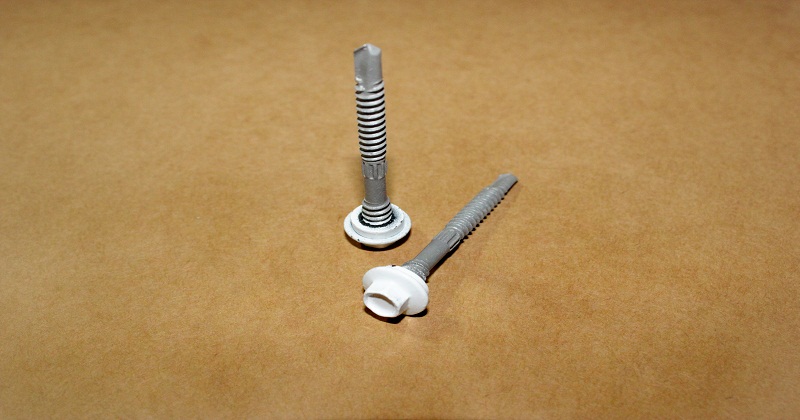 #14-14/#12-14 X 55MM
Half Threaded

Drill point 3

Drills upto 5mm thickness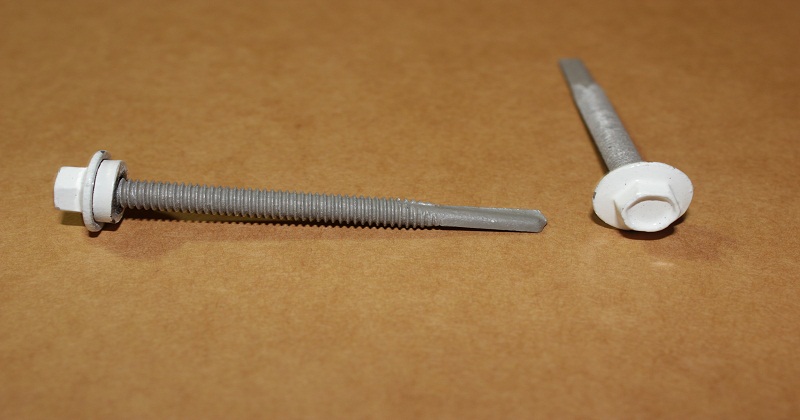 #12-24 X 65MM
Half Threaded

Drill point 5

Drills upto 12mm thickness
UNIQUE FEATURES OF SCREWS :
1.

India's first Triple Coated Self Drilling Screws
(i) Mechanical Plating 25+ Microns : This base coating acts as a sacrificial coating which prevents the screws from rusting, A superior 25+ micron coating ensures that the screws remains rust proof.
(ii) Epoxy coating 15 Microns : It is a premium Anti-Corrosive coating which protects the screws from harsh environment and severe weather conditions including acid rains and heavy humidity and U.V. rays.
(iii) Coloured Head : We ensured extra protection for the screws by powder coating the head, As only head will be exposed to the environment the extra layer of colour coating protects the screws from the pollution and humidity.
2.

Carbon Steel C1022 Base Metal
DURAFIXTMTM Fasteners are made of only the best grade metal for superior drilling and ultra high strength.
3.

EPDM Washers
Highest quality Black EPDM washers are used for best water resistance and leakage proof. Non conductive in nature, to prevent electro-galvanic corrosion that happens on colour coated roofing sheets.
4.

Precision Tip
An unique tip specially designed for perfect and smooth drilling. It maintains 100% Accuracy while drilling and does not damage the roofing sheet in which it is drilled.
5.

Applied Tests
The Screws are rigorously tested according to the best Australian and American Standards.
Salt Spray Test (SST) – 1000 hours as per ASTM B117-03 Class 3
Kesternich Test : 15 cycles of Acid Rain test as per ASTM G-87
Humidity Test – 1000 Hours as per ASTM D2247
U.V. with Humidity – 2000 hours as per ASTM G154
6.

ROHS Complaint
DURAFIXTM Fasteners are made in total compliance with ROHS. It gives the status of Eco-Friendly to Earth's Environment. It does not contain any substance which is Carcinogenic (Causing Cancer).
Years